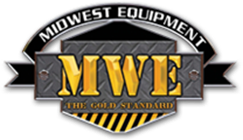 Cleveland, Ohio (April 27, 2020) – Provariant Equity Partners ("Provariant") is pleased to announce that it has recapitalized Midwest Equipment Sales ("MWE" or the "Company") in partnership with the Company's founder and CEO.  MWE is a leading technology-enabled specialty distributor of outdoor products for both home and professional uses.
MWE, headquartered in Columbus, OH, was founded in 2009 by its CEO, James Cline, Jr.  Under Cline's leadership, MWE has enjoyed rapid growth through its market leading direct-to-consumer and wholesale business model driven by robust online marketing, lead generation and nationwide distribution.  MWE is a leading developer of branded and private label aftermarket replacement tracks and tires used on utility machines and compact construction equipment sold through both a national network of independent dealers and online directly to end users.  MWE has also leveraged its supply chain and digital marketing capabilities to develop and distribute branded outdoor home products (including portable generators, pressure washers and other power equipment) through leading online retailer partners.
"I was looking for a partner to provide guidance on strategic planning and organizational development who has the financial and operating resources to support our growth plans for the next several years" said Cline.  Mr. Cline, who founded and started MWE, will continue in his role as CEO of the Company. "Provariant's knowledge of our business, commitment to our entrepreneurial culture and experience working with teams at our stage of development is a great fit.  I am excited to have them partner with us and look forward to what we can accomplish together."
Provariant is a private equity sponsor made up of four industry veterans who have worked together for over 20 years in private equity and have a long track record of successfully investing with founder-owned businesses.
Provariant's investment in MWE represents the first institutional capital in the business since its founding and also represents the first platform investment for Provariant Equity Partners.
"James and his team have built an extremely successful business model and we share his enthusiasm about the prospects for this Company" commented the Provariant team.  "MWE is a very good fit with our experience of working with founders as well as specialty distribution companies.  Under James's leadership, we believe there are a number of opportunities to enhance and support the growth objectives of the Company.  We are privileged to partner with James and his capable team."
Tecum Capital Partners and Centerfield Capital Partners partnered with Provariant to provide capital to consummate the transaction.  Senior financing was provided by First Commonwealth Bank and First Merchants Bank.  Footprint Capital acted as exclusive financial adviser to MWE.
About Provariant Equity Partners
Located outside of Cleveland, Ohio, Provariant Equity Partners was founded in 2018 by Gregg Taber, Dan DeSantis, Murad Beg and Kurtis Zabell who have worked together for over 20 years.  Provariant focuses on recapitalizations partnering with founder and family owned businesses, leveraging their diverse professional backgrounds and experience across 18 platform investments and 32 acquisitions while partners at Linsalata Capital Partners.  For more information, please visit https://provariantequity.com/
About MWE Sales
Founded in 2009 and headquartered in Columbus, Ohio, MWE Sales is a nationwide resource for compact equipment parts and accessories and outdoor power equipment.  MWE leverages multiple brands and solutions for its broad customer base, including TNT tracks and tires, ClimateRight and Westinghouse portable generators.  MWE sets the gold standard through innovation and unparalleled attention to customer service, product quality and price.